Gutter Cleaning Service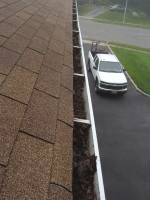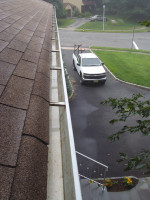 Gutter cleaning is one of those necessary maintenance jobs every property owner dreads. So if you'd rather not drag out the ladder and spend hours digging through clumps of rotten debris and twigs, give Peter to the Rescue a ring. Available morning, noon, or night to accommodate your hectic schedule, our professional gutter cleaning service is a convenient, time-saving option to doing the dirty work yourself. Plus, with more than 20 years of experience in the handyman business, our gutter cleaning contractors are as thorough and efficient as they come. Call us today for a free estimate!
While gutters are great for protecting your property from incoming rain and water damage, they do require periodic cleaning in order to function properly. That's where Peter to the Rescue can really ease the drudgery of seasonal chores. By relying on our licensed gutter contractors, you can kick back and relax, knowing that your drainage system is cleared of clogs and flowing freely.
Peter to the Rescue's gutter cleaning service is especially helpful after strong winds or heavy rain storms have left your Dover-area property littered with leaves, dirt, and broken branches. You can count on our experienced gutter contractors to help you get rid of the lodged debris and avoid such adverse consequences as:
Foundation erosion
Basement leaks
Roof damage
Wood rot
Peeling paint
Mold growth
Mosquito breeding
Landscape deterioration
And more
Once all of the collected materials have been carefully dislodged and removed, Peter to the Rescue will finish off your gutter cleaning service by flushing out both your gutters and downspouts to ensure an open channel as well as optimal drainage. With the debris now out of the way, any rainwater entering will be able to flow freely within your gutters until it's diverted away from your building and foundation.
To learn more about proper gutter function and how our professional gutter contractors can assist you with this dreaded chore, call or e-mail Peter to the Rescue today. Keeping your property looking great and safe from costly water damage is as easy as picking up the phone and making an appointment for our gutter cleaning service.
And don't forget, as part of our extensive handyman services, Peter to the Rescue also offers window washing. Why not combine your gutter cleaning service with a professional window washing and take care of two property upkeep projects in one convenient visit? Simply take a minute now to call.
rain gutter cleaning service
Gutter contractors