Hot Tub Repair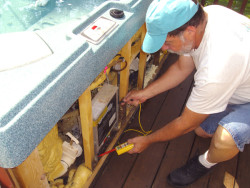 Nothing can alleviate stress and soothe your aching joints quite like a long, relaxing soak in a whirlpool spa. So when technical difficulties are keeping you from enjoying the pleasure of your hot tub, Peter to the Rescue is the first contractor to call. With more than 20 years of experience in hot tub repair and installation, we can diagnose and turn around your tub troubles in next to no time. Our skilled technicians are available for all of your spa and hot tub repairs. We're even here when you need us for emergency hot tub repair, in case you have a problem that simply can't wait.
While some hot tub repair companies are only equipped to service a few major components, Peter to the Rescue is ready and able to address virtually every aspect of your ailing hot tub or spa. From broken thermostats to leaky pipes to loose wires, you can count on our hot tub repair specialists to pinpoint what's wrong with your system and swiftly make it right. Whether you own an outdoor or portable unit, one with seating for three or seven, we'll get you back in the warming waters, enjoying the jets again, with minimal disruption to your usual whirlpool schedule. Simply contact us today by phone or e-mail to get started on your hot tub repair.
Hot Tub Repairs for Homes and More
Peter to the Rescue takes great pride in providing hot tub repairs and installation for the entire Dover region, including Morris, Sussex, and Warren counties. So whether you need hot tub spa repair for your private residence or hot tub installation for your place of business, add us to your list of contacts today. Having us on speed dial can be especially helpful for owners of area rental properties, bed and breakfasts, and other types of facilities that rely on the provision of hot tubs to attract paying customers. With our skillful and timely hot tub repairs, you can make good on the spa amenities that you promise to your guests. 
At Peter to the Rescue, we understand the economic strain that so many people are under today. That's why we work hard to make your hot tub repairs as efficient and cost-effective as they can be. But sacrificing safety in order to save money is never a good idea. If you're thinking about dabbling in hot tub repair without the proper training, think again. When you're dealing with the potentially deadly combination of water and electricity, one false move could spell disaster. So don't risk electrocution with do-it-yourself hot tubs repair—turn to the skilled technicians at Peter to the Rescue instead. With over two decades of hands-on service in hot tub spa repair, we have the tools and techniques to prevent missteps and ensure that your hot tub repair is safe for your family, friends, and guests.

Hot Tub Installation
Contemplating a hot tub of your very own? Well, what's stopping you? There's nothing quite like the pleasure of a whirlpool spa right in your own backyard, and with Peter to the Rescue handling your hot tub installation, you can wave any worries goodbye. If you're ready to bring your backyard dreams to life, contact us now for installing hot tub equipment to your precise specifications. With our in-depth knowledge of handyman services, you can expect nothing but flawless hot tub installation. Upon your request, we can even construct a custom deck or one-of-a-kind surround to make your new spa or hot tub the envy of the whole neighborhood.
And remember... Peter to the Rescue is fully insured and licensed for your complete satisfaction and protection. Give us a call today to set up an appointment for hot tub repair or hot tub installation, and don't forget to ask about our great warranties. 
Hot Tub Wire
Install Hot Tub
Hot Tub Wiring
Hot Tub Repairs
Hot Tubs Repair