Interior Painter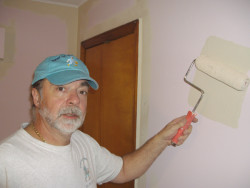 Are you tired of looking at marked-up walls or outdated colors day after day after day? Then it's time to break out some fresh shades and spruce up your space with interior painters services from Peter to the Rescue. A bright new coat of paint is a cost-effective way to add instant appeal to any room, and our top-notch painters can make certain it goes on right. From fussing over the prep work to achieving nice clean edges, we have the skills and expertise to tackle even the most challenging painting projects. Give us a call today to learn more about our interior painters services.
If you've ever taken on a paint job, then you know exactly how important those first few steps can be. Without proper preparation of walls and trim, the final application can come out blotchy, streaky, bumpy, and just plain awful. With Peter to the Rescue in the room, you'll never have to worry about disappointing results from your interior painter. Unlike do-it-yourselfers or amateur painters, we've been rolling on paint for more than two decades, making us true professionals. We'll do everything we can to ensure your satisfaction, including filling in cracks and holes and cleaning up after ourselves. Beautiful, flawless finishes are the hallmark of Peter to the Rescue's interior painters services!
No matter what type of area you'd like us to cover, Peter to the Rescue is the interior painter to call. Large or small, commercial or residential, our skilled painters are ready to help you put a fresh face on all your rooms and surfaces, including:
Kitchens
Bedrooms
Bathrooms
Hallways
Living rooms
Dining rooms
Rec rooms
Ceilings
Trim and woodwork
Cabinets
And all the rest!
Need help deciding what kind of paint to choose? Peter to the Rescue can assist in that area as well! We're available to answer any questions you may have about interior painter options, including primer, flat, eggshell, satin, and semi-gloss selections. With any type of interior painters services, it's vital to apply the appropriate product for sheen preference, durability, and even mold and mildew resistance. We'd be happy to help you determine which choice of paint is best for your project and provide you with an upfront estimate at no charge. Contact our knowledgeable painters right away by phone or e-mail. We're fully insured and licensed for your complete protection.
Contractor Painters
Interior Painter
Interior Painters
Painters Services
Commercial Painting Contractors
Residential Painting Contractors